Make Vegetable Paratha in 30 minutes | Sabzi Paratha Recipe
Hello friends,today I'm here to solve your daily problems of making breakfast.I know it's a big problem to think what you should make for breakfast or as a tiffin of your child . it's very hard to feed your children some healthy food,because they don't like vegetables and healthy foods at all.so this vegetable paratha will be a great option for you to give them a healthy diet.you can also take this vegetable paratha as your office lunch.as vegetables are very healthy for us also.so, today I'm going to share the recipe of very healthy and tasty vegetable paratha.
This vegetable paratha will be made up of different types of healthy vegetables, which are easily available.I'm using some cabbage,carrot,peas,potatoes and some cauliflower as all these were available at my kitchen.now, let's follow the recipe of delicious vegetable paratha.
Ingredients –
cabbage (1/4th of a whole)
Cauliflower (1/4th)
Potato (1 big)
Carrot (1 big)
Peas (1 cup)
Green chilli (3-4)
Ginger (1 inch)
Refined flour (3 cups)
Refined oil (as needed for frying)
Dry roasted whole red chilli powder (1/2 teaspoon)
Dry roasted cumin powder ( 1 teaspoon)
Asafoetida (1/4th teaspoon)
Chaat masala (1/2 teaspoon)
Salt ( as per taste)
Sugar (1/2 teaspoon)
Preparation –
To make vegetable paratha, we need to cut the vegetables first.for that we need to clean all the vegetables and chop them in cubes.
We need to cut the potatoes, carrot and cauliflower into chunks.
now Finely chop the cabbage.clean the peas very well.
Take 2-3 green chillies and chop them finely.
Take 1 inch of ginger and grate them finely too.
Process-
Now it's time to start our vegetable paratha.for that we need to take all the vegetablesand put them in a pressure cooker.put 1/2 teaspoon salt and cook until 2 whistles come.
Now drain all the water and let the vegetables cool down.
Then mash them with a masher and add the spices one by one.
Add the chopped green chillies,grated ginger,roasted whole red chilli powder (1/2 teaspoon),chaat masala,roasted cumin powder,asafoetida,salt as per taste, and 1/2 teaspoon sugar and mix all the ingredients well with the mashed vegetables.
Now add 3 cups of refined flour and keep mixing them with the mashed vegetables.add some water if needed to form a dough.
Add 1 teaspoon of refined oil and kneed it again and keep it aside.
Now take some dough and make a smooth ball from it and roll with a rolling pin like a chapati.
Now heat a pan and put the paratha on the pan on a medium flame and cook it for 2-3 minutes each side.
Now add 1 teaspoon refined oil and cool it again for 2-3 minutes each side and your vegetable paratha will be absolutely ready to eat.
serve it hot with some achar or some jeerar alu,or dum aloo.for dum aloo recipe you can follow my previous recipes.

Sabzi Paratha / Vegitable Paratha
Summary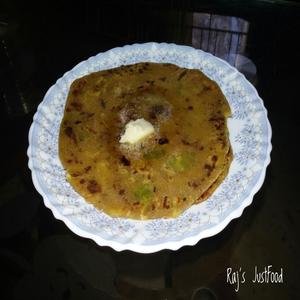 Recipe Name
Author Name
Published On
Preparation Time
Cook Time
Total Time
Average Rating





Based on 1 Review(s)
---
---