Sweet Potato Gulab Jamun Recipe
Eid Mubarak 2020!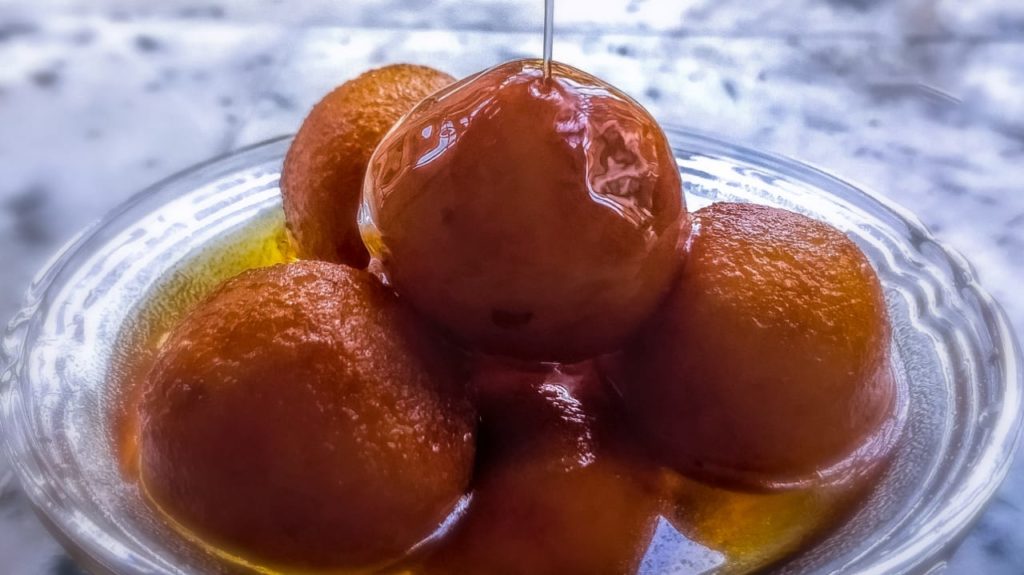 Gulab jamun Recipe:
Today we are going to make sweet potato gulab jamun . Eid is one of the most celebrated festival for Muslims in India and abroad. They celebrate the end of the holy month of Ramadan by breaking their fast with scrumptious dishes. Their are so many delicious dishes like Biriyani,Korma,Haleem,Kebabs and different sweets like Sheer kurma,Firni,Shahi tukra,Gulan jamun to celebrate this festival…
But as we all know that the world is going through a tough time.Many people don't even have food.At this time amidst this lock down,we cannot afford to go out frequently and buy things to cook good food.So, we have to do the cooking with the things we have in our kitchen and make this festival special for the family.
So thought of sharing a all time favorite sweet dish which you can make with some simple ingredients… I'm sharing the recipe of Gulab Jamun with a twist…..
This Gulab Jamun is made up with sweet potato.Yes,we can make this Gulab Jamun with a vegetable,and it will be equally tasty and soft.
Now let's see the ingredients needed to make the Sweet potato gulab jamun. With this amount of ingredients,you can make 18-20 pieces of gulab jamun at a time.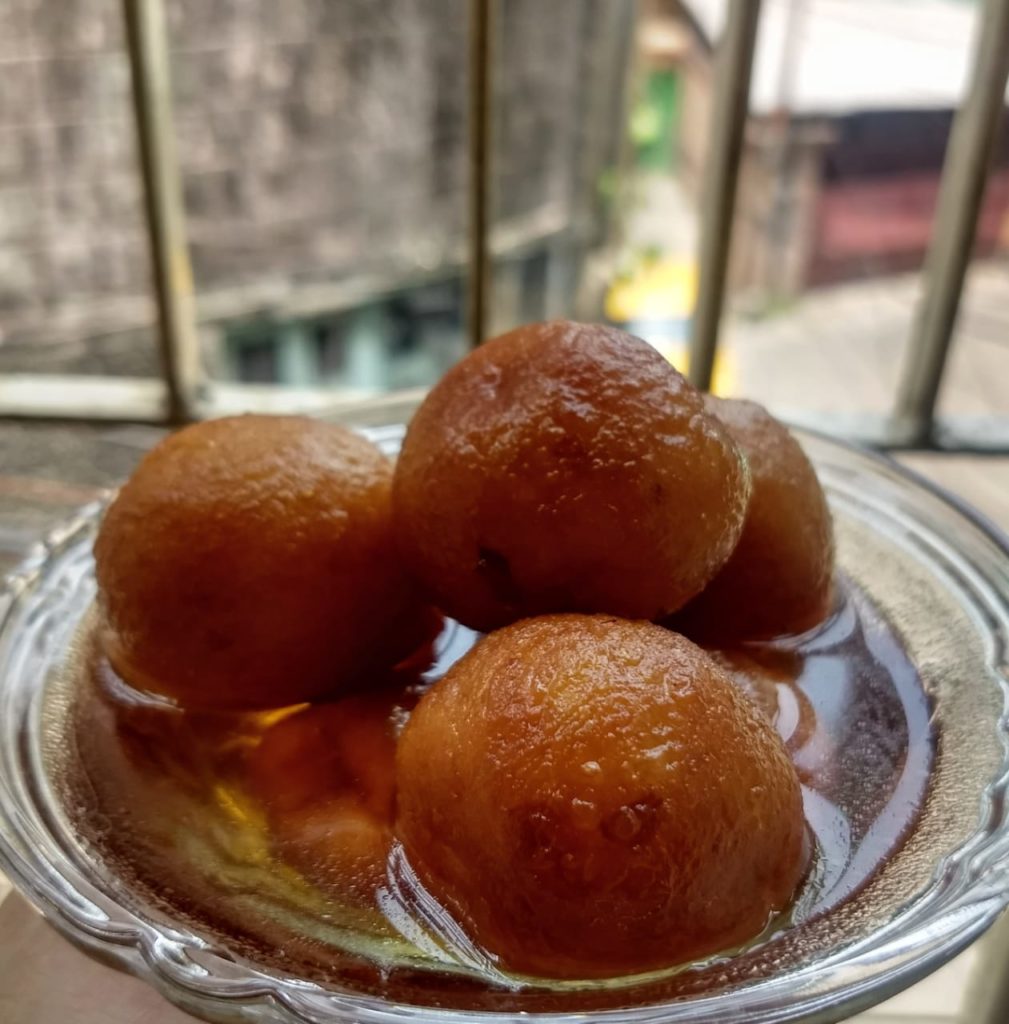 Ingredients :
For the gulab jamun:
Refined flour (2-3 tablespoon)
Powdered milk (5 tablespoons)
For sugar syrup:
Cardamom powder (1 teaspoon)
Preparation:
To make the Sweet potato gulab namun at first we need to take 5 medium sized sweet potato.
Wash it well and peel it.Now cut it into halves.
Put them in a pressure cooker with a pinch of salt and add some water.cook the sweet potatoes for 2 whistle.
Now for the sugar sugar syrup,take 3 cups of sugar in a deep bottom pan.add 2 cups of water.
Bring it to boil and add 1teaspoon of milk in it.it will help to clear the sugar syrup.You can see foam coming out of the syrup.take them out with a spoon.
Now boil the syrup for 5 minutes and add the cardamon powder in it and fut the flame off.Keep it aside.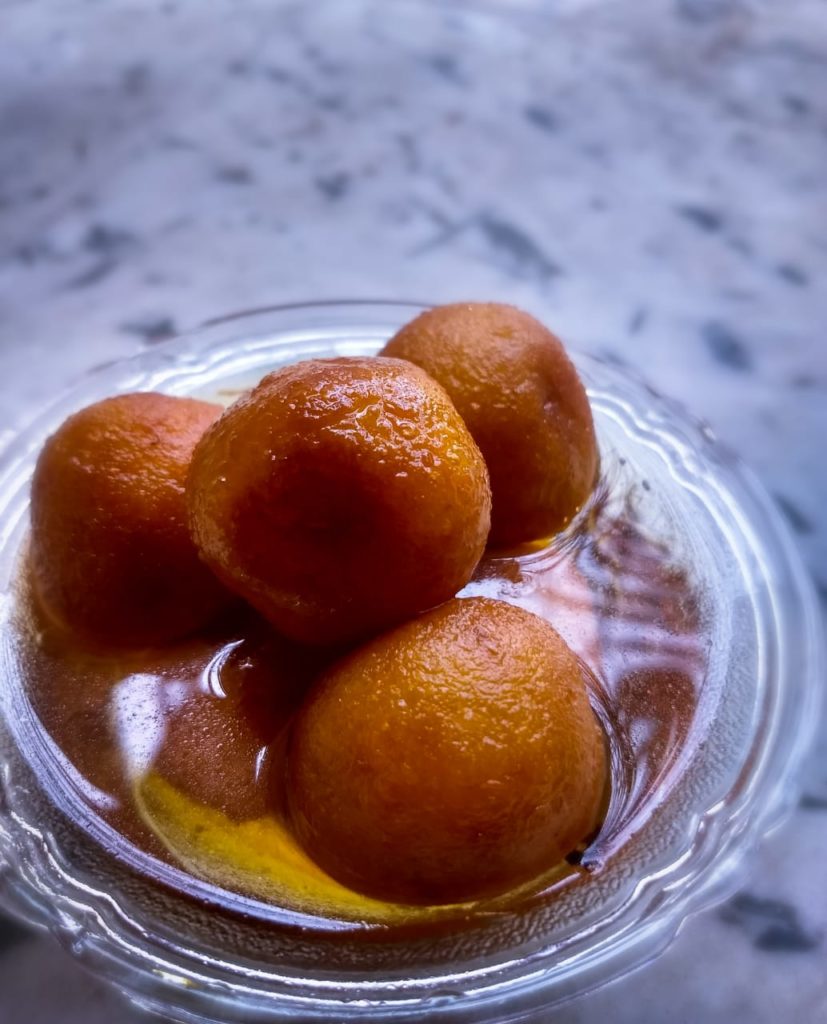 Process:
Now we will start making our gula jamun.for that take the boiled sweet potato on a plate.
Mash them with a spoon and keep it under the fan too cool it down.
After 4-5 minutes mash them with your hand finely.No lumps should remain.
Now add the powdered milk in it and mix it with the mashed sweet potato.add 2 tablespoons of refined flour in it.
Mix the whole thing together very well and make it like a soft dough.If you think the mixture is too soft to handle,you can add 1 or 2 tablespoons of refined flour in it and make a perfect soft dough of sweet potato.
Now take 1/2 tablespoon of ghee in your hand and rub it.It will help you to make smooth balls from the dough without sticking in your hand.
Now take the sweet potato dough and divide it into small pieces.
Take the small pieces and make small balls from them.Roll the dough in between your both palm and make smooth balls.
Now in a pan add enough refined oil (3-4 cups) to fry the jamun.Add 2-3 tablespoon of ghee in it.
Heat the oil in medium flame.the oil should be medium hot while frying the balls.otherwise the jamun will get burned.
Add a small chunk of the dough in oil.If you can see,bubbles coming out from the oil, it will be indicating that the oil is hot enough to add the dough balls.
Now add 4-5 dough balls at a time,not more than that.So that you can move the balls freely in the oil.It will help to cook it from all side and give an even golden brown colour to the jamuns.
Gently keep moving the jamuna and fry them slowly till they turns golden brown.
Once they turned golden brown,take them out from the oil and add to the sugar syrup which we have made earlier and let them soak the sugar syrup.
Make all the jamuns in the same way and add them into the sugar syrup.when all the jamuns are added into the sugar syrup,cover the lid and keep them aside for at least 2 hours.It helps the gulab jamun to soak the sugar syrup properly.
Now take them out in a bowl and serve them hot or cold as well.
Summary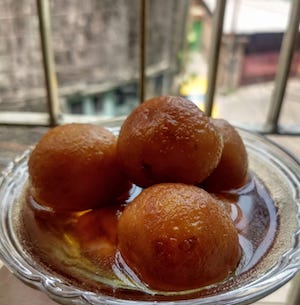 Recipe Name
Author Name
Published On
Preparation Time
Cook Time
Total Time
Average Rating





Based on 1 Review(s)
---
---