How To Make Sweet Boondi at Home | Mishti Bode Recipe
Sweet Boondi:
Autumn is here as well as the festival of colour. Holi is the festival of colours in which we all fill our souls with the beautiful colours.in this festival food plays an important role like any other festival of India.as we all know that any celebration is incomplete without mouth watering sweets.
Today I'm going to share the recipe of everyone's favourite colourful mishti bode/ sweet boondi. Holi is a festival where different types of snacks,sweets and drinks are very important.so I'm going to share the easy recipe of a easy sweet which you can make any time at your home and serve it to your friends and family.
I'm using 1 type of colour in this mishti bode / sweet boondi.you can use different food colours to give mishti bode/ sweet boondi a colourful twist for holi.now I'm going to start the recipe of mishti bode/ sweet boondi.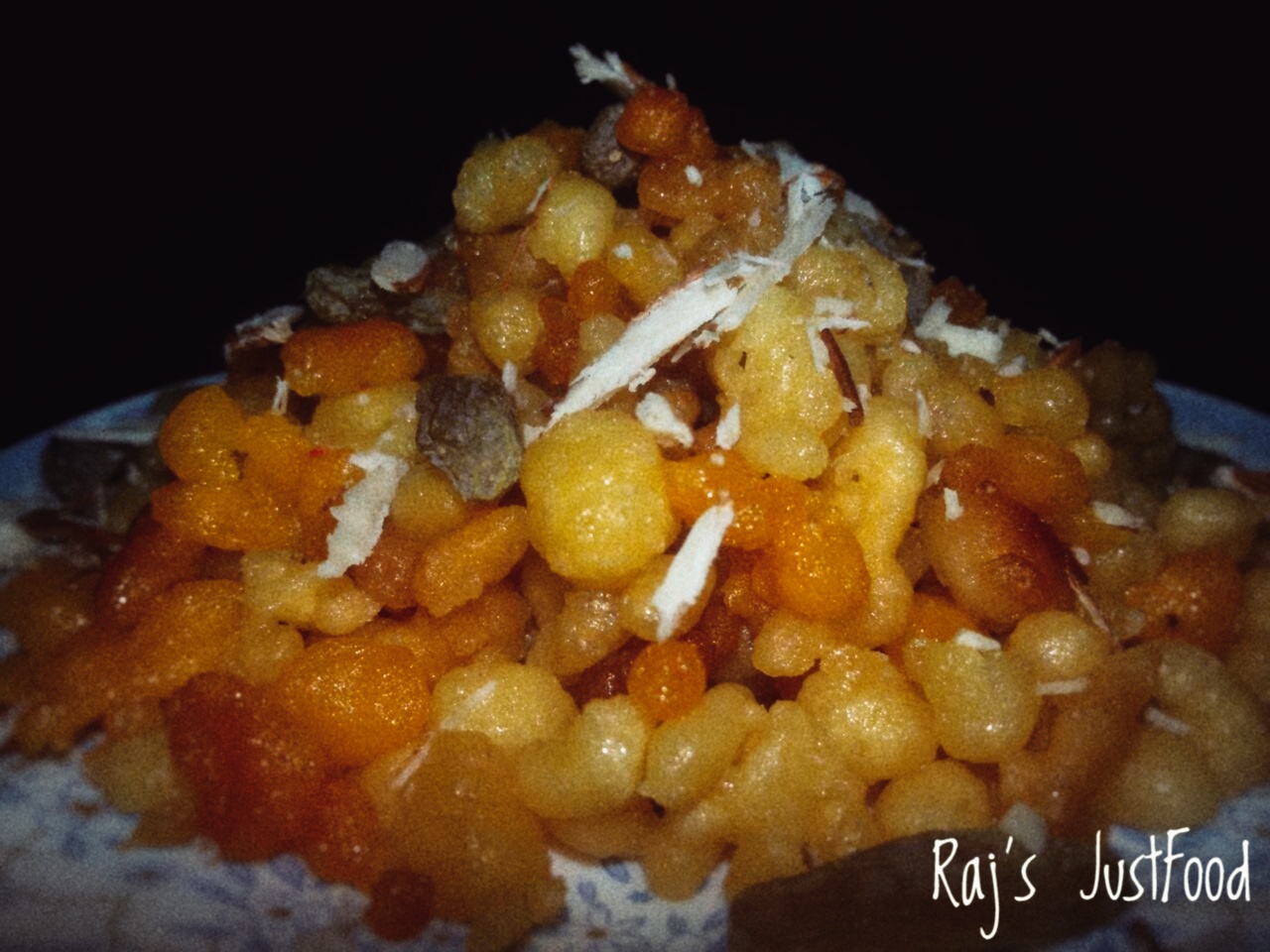 Ingredients –
for boondi-
chana besan / Chickpea flour (1cup)
Water (as needed to make a flowing consistency)
orange food colour (1 pinch
refined oil (for frying)
ghee/ clarified butter (1/2 cup)
Chopped dry fruits (for garnishing)
For sugar syrup –
Sugar (2 cups)
Water (1 cup)
cardamom powder (1/2 teaspoon)
Preparation –
To make mishti bode/sweet boondi we need to make a batter of chana besan / Chickpea flour.for that take 1 cup of besan / Chickpea flour.add water in parts and mix it well with the besan / Chickpea flour.till it comes to a semi thick flowing consistency.
Now we will add colours to the boondi batter.for that take half of the batter in a different bowl because I'm adding 1 food colour.
You can divide the batter in more bowls if you want to add more different colours.
Now add 1 pinch of orange food colour in one halve.mix it well with the batter.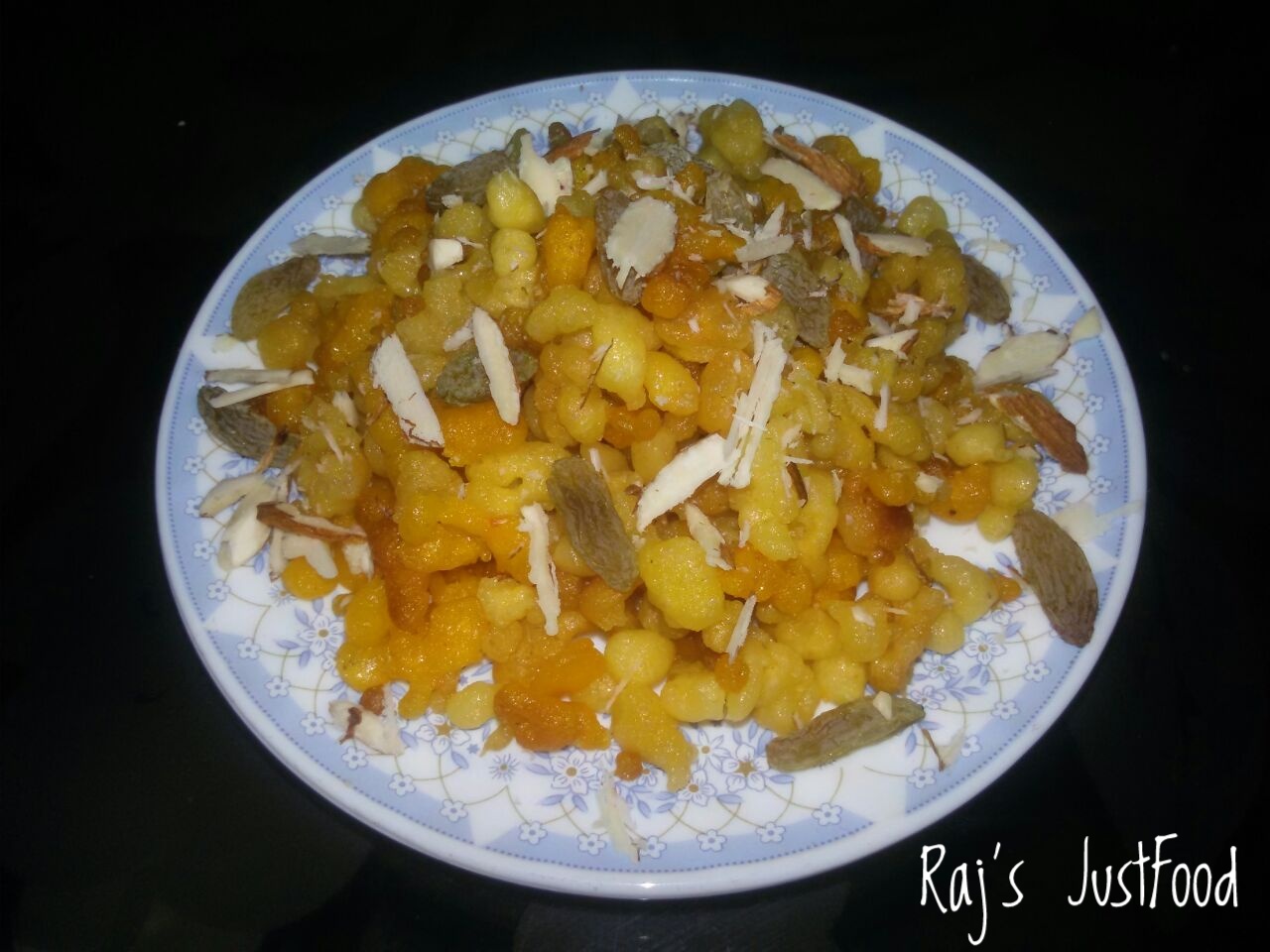 Process –
Our batter is absolutely ready.now we will make our sugar syrup.for that take 2 cups of sugar in a pan.add 1 cup of water and 1/2 teaspoon cardamom powder.
Let it melt and boil till it turns thick and forms two strings when you check it with your fingers.now switch off the flame.
It's time to make our bode/ boondi.for that take 2-3 cups of refined oil in a pan and let it get hot.add 1/2 cup of ghee /clarified butter.
Now take a slotted ladle or a skimmer spoon and pour some of the normal mixture through it to the hot oil.it will get
Spread allover the oil and start frying.take them out on a tissue paper when it is cooked properly and crisp.
Cook the complete batter in The same process and take them out on a tissue paper.
Cook the coloured batter as well and take them too on a tissue paper.now it's time to put them in the sugar syrup.
Take all the dry boondi and put them into the sugar syrup and mix all the boondi with the syrup and let the boondi soak the sugar syrup.
It will stay crisp as well after soaking the sugar syrup.now take them out on a plate and serve it by garnishing with Chopped Dry Fruits and Celebrate a safe and enjoyable Holi.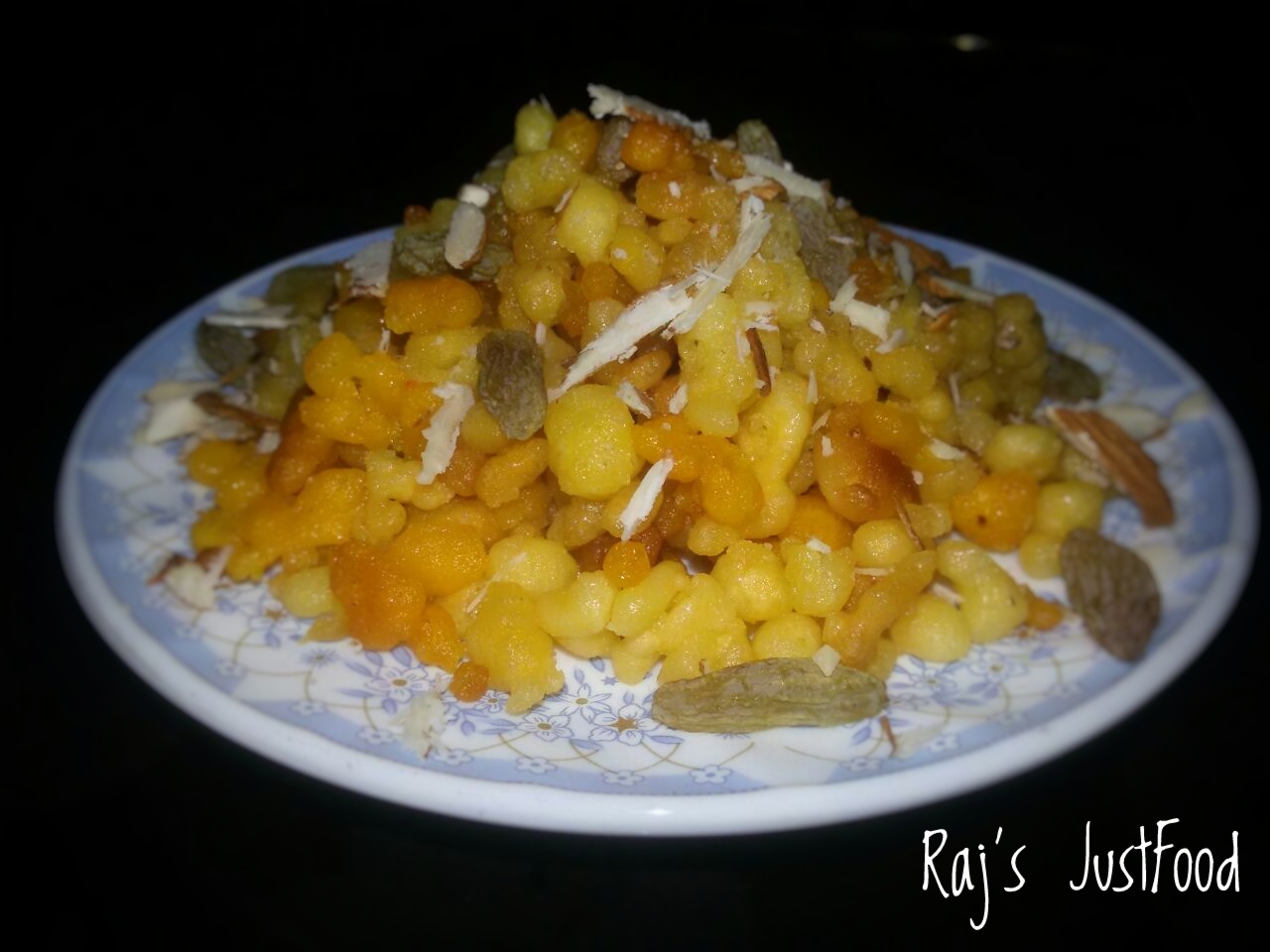 Check out our Latest Veg Recipes
Summary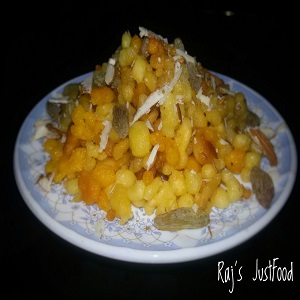 Recipe Name
Author Name
Published On
Preparation Time
Cook Time
Total Time
Average Rating





Based on 2 Review(s)
---
---