Delicious Potoler dorma | Stuffed Pointed Gourd | Parwal Dolma Recipe
Hope you enjoyed carrot halwa which I have shared with you tomorrow. If not, then hurry up and make it to enjoy this sweet dish.now I'm going to share a tasty vegetarian dish with you. I know I have shared so many of non vegetarian dishes.which my vegetarian friends could not follow. But now it's time for both to enjoy a different type of dish. Though this dish can be also made with chicken / mutton Keema , prawns too. But today I'm making this dish specially for my vegetarian friends. So I'm using grated paneer in this dish. please make it and let me know if you like it or not. I will tell you the non vegetarian version also but it's time for a vegetarian twist.hope you will like it.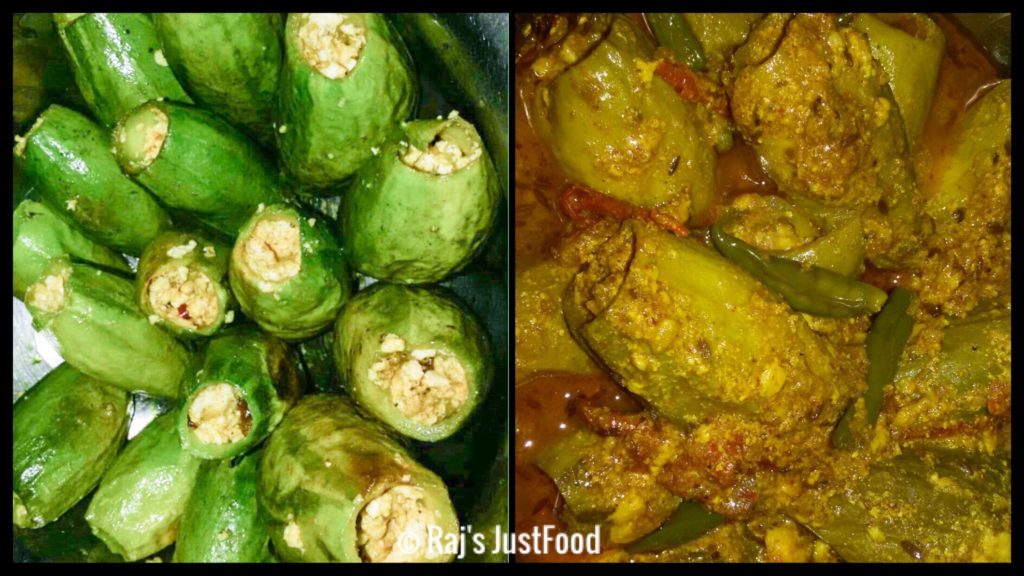 Ingredients –
pointed gourd (10-12)
Grated paneer ( 250 gm )
Hung curd ( 1cup )
Chopped cashew nut (50gm)
Resin/ kishmish (50gm)
Chopped ginger ( 1 teaspoon)
ginger paste (2tablespoon )
Chopped green chili ( 4-5 )
Green chili paste ( 1 tablespoon )
Turmeric powder ( 1 teaspoon )
Red chili powder ( 1 teaspoon )
Garam masala powder ( 1 teaspoon )
Whole cumin ( 1 teaspoon )
Chopped red chili ( 1 teaspoon )
Salt
Sugar
Water
Mustard oil (1/2 cup)
Preparation –
To prepare the pointed gourd we have to cut the one end of pointed gourd and wash them well.
Now take a spoon.scoop the pointed gourd with the back of the spoon and keep the flesh in a bowl.dont waste it.
Now take 1 cup of hung curd and put 1 teaspoon turmeric powder, 1 teaspoon red chili powder, 1 teaspoon of garam masala powder, salt as taste and 1 teaspoon sugar.
Make a fine paste.keep it aside.
Remember we will put some salt in stuffing also.so put salt carefully for the gravy.we will also put some salt in pointed gourd at the time of frying.
Process –
To make the stuffing we have to heat 1 teaspoon oil in pan.add the chopped red chili, chopped green chilies and chopped ginger in it.
Fry them for 1 minute.then add the flesh which we have scooped out of bottle gourd.fry them for 4-5 minutes.
Now add some salt and put the grated paneer in.cook them for 4-5 minutes.
Now add chopped cashew and resin in it and 1/2 teaspoon sugar also. Mix till the sugar dissolves.
The stuffing is ready.now take it out in a bowl and let it cool.
Now add some more oil to the pan and heat it. Add the pointed gourds in.add some salt and turmeric powder to it and fry them till it turns little soft.
Take them out and cool them.now take some stuffing In spoon and fill the fried pointed gourd.keep 1/2 inches space otherwise the stuffing will get out.
Keep some stuffing.we will put the extra stuffing in the gravy.
When all the pointed gourd is ready , it's time to cook the gravy.for that heat 2 tablespoon oil.
Add whole cumin and fry it for 1/2 minutes. Now add ginger and green chili paste and fry them for 2-3 minutes.
Then put the mixture of curd in and stir it continuously that no lump can form.
Cook it till oil comes out and then put 1 cup of water.add the extra stuffing which we kept to put in the gravy.
When the gravy is thick add the stuffed pointed gourd in and cover the pan.cook them for 10-15 minute or till the pointed gourd gets soft. Sprinkle some garam masala.
Your stuffed pointed gourd Is ready to eat.i know it's a little time taking process. But after tasting it I'm sure you won't feel upset.the taste of this dish will make you so happy.
---
---