How to make Tandoori Chicken at home | Tandoori Chicken recipe without oven
Christmas has gone but the hangover is still there.I hope you enjoyed my Christmas special Eggless Fruit Cake.now we're getting ready to welcome new year.as it is a special day for all of us,we try to celebrate this day with all of our beloved ones.and,as we all know that celebrations are not cool without any food.we need some kind of dish which we can serve to our guests with drinks and the dish our children would also love to have.that's why I'm going to make some mouth watering preparation to serve.
Today I'm going to share the recipe of tandoori chicken.of course the well known and hopefully the all time favourite dish of many people,tandoori chicken.it is a dish, which you can make in front of your guests and serve them if you have any tandoor oven or bar-b-que set.If you don't have anything Of these and you're thinking that you can't make tandoori chicken at home like others,then don't worry at all.because I'm going to show you how to make tandoori chicken in gas oven.so that you can make it anytime, whenever you want to have tandoori chicken.here's the recipe of tandoori chicken.let's see the process.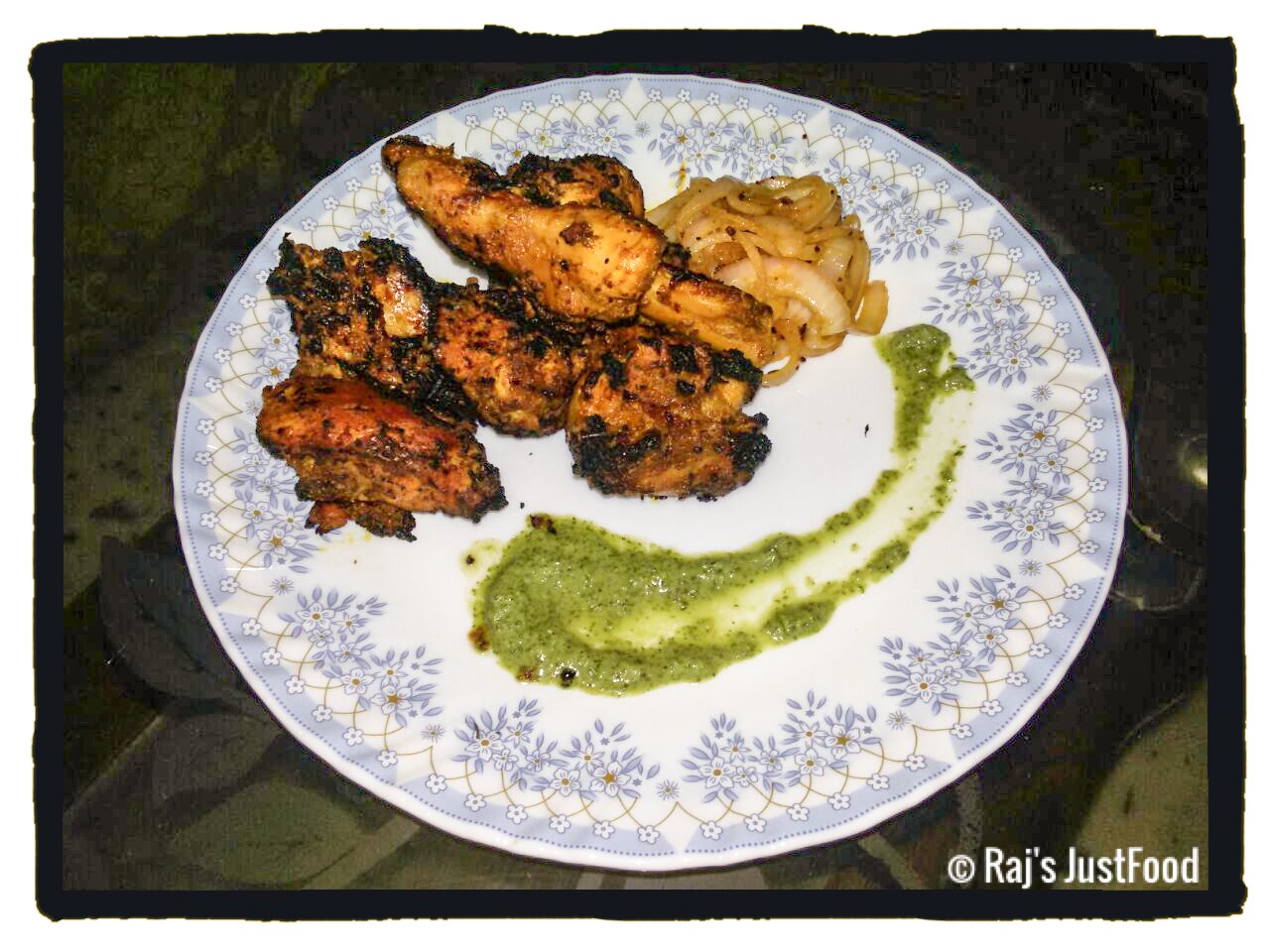 ---
Ingredients
1st marination-
whole chicken (4 people)

Ginger paste (2 tablespoon)

Garlic paste (2 tablespoon)

Green chili paste (1 teaspoon)

Lemon juice (2 teaspoon)
2nd marination –
hung curd (1 cup)

Turmeric powder (1 teaspoon)

Red chili powder (1 teaspoon)

Garam masala powder (1 teaspoon)

Coriander powder (1/2 teaspoon)

Cumin powder (1 teaspoon)

Black pepper powder (1/2 teaspoon)

Chickpea flour (1 tablespoon for binding)

Mustard oil (3 tablespoon)

Salt (as per taste)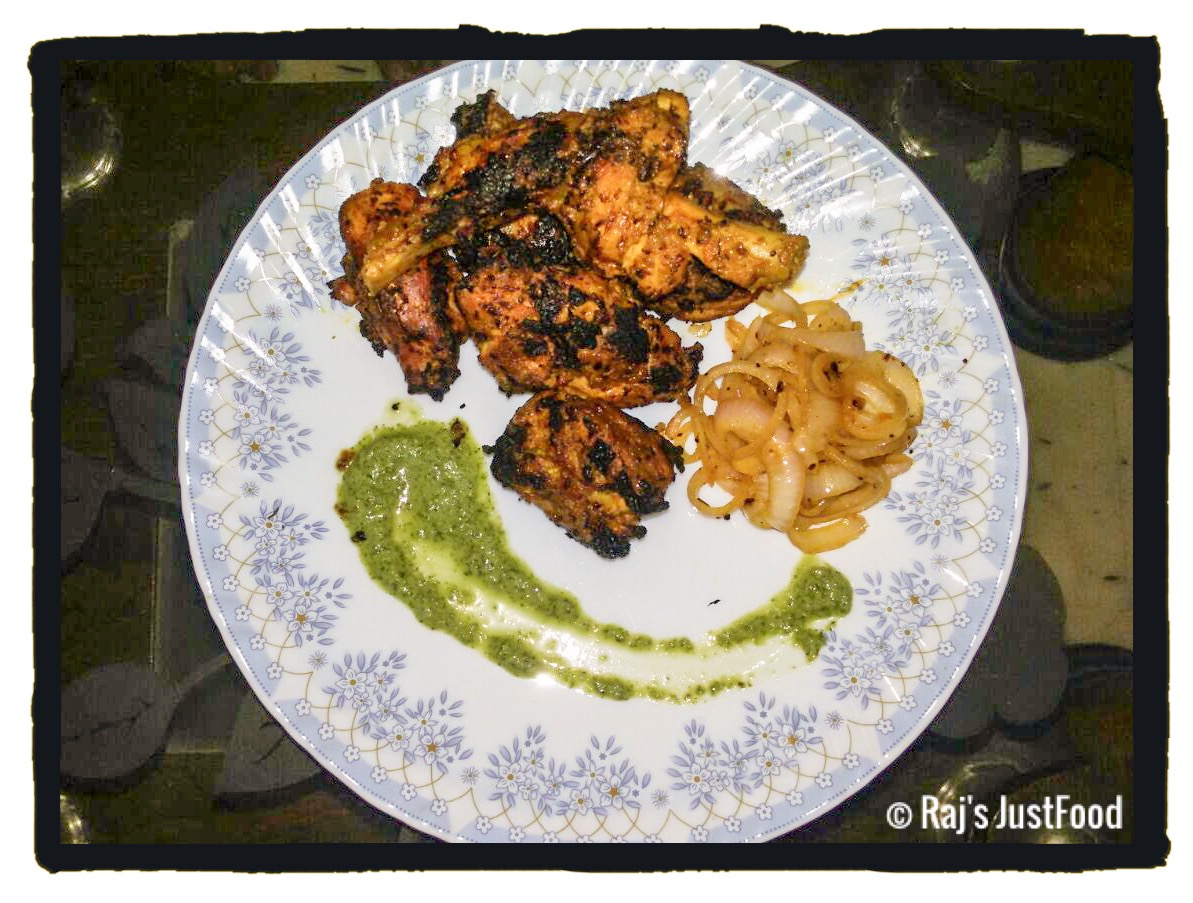 ---
Preparation-
To make tandoori chicken,we need to take 1 whole chicken for 4 people.cut them into 4 equal pieces.cut them again into another 4 pieces.that's how we will get 8 pieces for 4 people.
Now clean them well and slit them with a knife.and put all the chicken into a bowl.
Its time to make our 1st marination.for that put 2 tablespoon ginger and garlic paste into the bowl.add the green chilli paste and lemon juice too.
Now mix them well with the chicken pieces with your Hand that the spices can cover all the chicken pieces well.keep it aside for about 30 minutes.
In this 30 minutes,we will start making our 2nd and final marination.
to make the 2nd marination of tandoori chicken.we need to take the hung curd into a bowl.make it smooth by pressing it slightly with your hand and put all the spices one by one.
put the turmeric powder,red chili powder,coriander powder,cumin powder,black pepper powder and the most important garam masala powder(cloves,cinnamon,cardamom,black cardamom,bay leaves) and mix them well with the curd.
Now its time to put salt as per your taste and the Chickpea flour and Mustard oil to bind the whole mixture.
Now put the marinated chicken pieces into the 2nd marination and mix it well that the 2nd marination also can cover the chicken pieces well.keep the marinated chicken in the fridge for minimum 2 hours or you can keep it overnight for best results.
---
Process –
It's time to start our tandoori chicken.for that take the marinated chicken out of the fridge.mix them again and keep it aside.wait until it comes to room temperature.
now take a non stick tawa and brush it well with mustard oil.heat it well on medium flame.
Now put 3/4 marinated chicken pieces on the tawa and cover it with a lid and cook it on the medium flame till it turns brown and soft.Now turn it up and cook the other side also.cook all the chicken pieces with the same process.
Take the cooked chicken pieces out and put them again into the leftover marination.coat the cooked chicken well with the marination.it will help to keep the chicken soft and juicy.
now take a net of steel or iron.greese it with some mustard oil.put it on the gas oven.
put the chicken pieces one by one on the net and let them burn to get the flavour and texture of tandoori chicken like restaurants.
when you can see one side is burnt properly turn it and let the other side burn and get the same structure.after that your tandoori chicken will be ready to eat.
serve it hot with some salad.to make onion salad,cut 3 onions into fine rings and toss them in the same tawa,where we've cooked our chicken and put a little salt and lemon juice.serve the tandoori chicken hot with the onion salad and coriander chutney and enjoy your 31st night with your friends and family and some awesome drinks.

Summary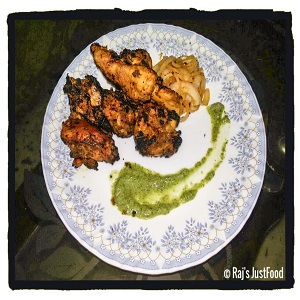 Recipe Name
Author Name
Published On
Preparation Time
Cook Time
Total Time
Average Rating





Based on 2 Review(s)
---
---