How to make Chital Macher Muitha | Chital Fish Recipe
Chital Macher Muitha:
After so many days I'm here to share some amazing recipes with you.I hope you guys are doing well.If you guys are enjoying my recipes…please let me know.
Today I'm going to share an authentic bengali recipe which our grand mother or mother used to make…a recipe which can fill your mouth with water just hearing about it.it is chital macher muitha. chital macher muitha is a delicious fish ball curry made up of chital fish.at this time chital fish is easily available…so it will be easier for you to make this and serve mouth watering chital macher muitha to your family…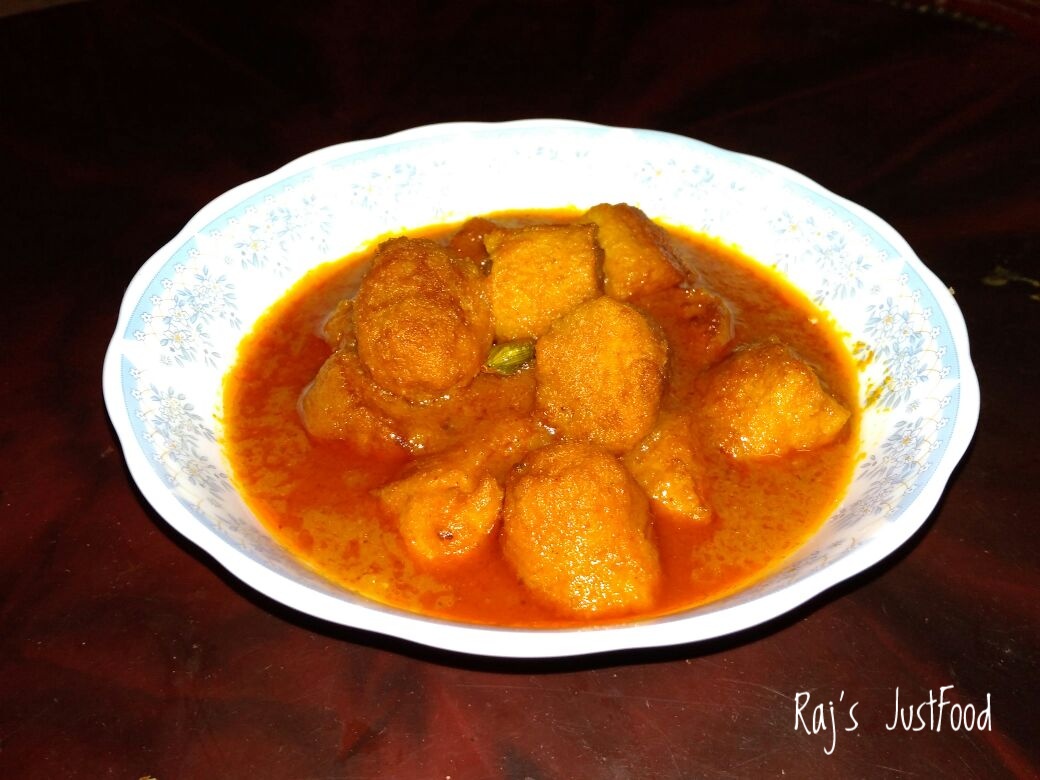 Ingredients-
For muitha-
Chital fish(500 gm)
Potato(1 small)
Ginger paste (1/2 teaspoon)
Garlic paste (1/2 teaspoon)
Onion paste (2 teaspoon)
Green chili paste (1/2 teaspoon)
Red chili powder (1/4th teaspoon)
Turmeric powder(1/4th teaspoon)
Salt(as per taste)
Garam masala powder (1/4th teaspoon)
Water (for blanching the fish balls)
Mustard oil (to fry the fish balls)
For gravy-
Ginger paste (1 teaspoon)
Garlic paste (1 teaspoon)
Onion paste (6-8 teaspoon)
Green chili paste (1 teaspoon)
Tomato paste (1 cup)
Red chili powder (1 teaspoon)
Turmeric powder(1 teaspoon)
Salt(as per taste)
Sugar (1/2 teaspoon)
Garam masala powder (1/2 teaspoon)
Coriander powder (1/2 teaspoon)
Cumin powder (1 teaspoon)
Whole cardamom (2-4)
Whole cinnamon (2-3 sticks)
cloves (4-5)
Bay leaves (2-3)
Mustard oil (3 tablespoon)
Ghee/clarified butter (2 tablespoon)
Water (as needed)
Preparation-
To make delicious chital macher muitha we need to take 500 gm of Chital fish fillet.this fish contains so much of bones.so our first priority is to get the fish de-boned.
For that we need to take ta fish fillet and scoop the flesh out with a spoon and a knife.
After that take all the flesh and remove all the bones with your hand.it's very important to remove bones.otherwise it will stuck in your mouth.which is not a good thing.(be careful)
Now boil one small potato and mash it well.add the mashed potato to the flesh of fish.
Then add the spices one by one.put all the onion,ginger,garlic,chili paste as mentioned in ingredients for muitha.
Now add the spices like turmeric powder,red chili powder,garam masala powder and salt as par taste.
Mash all the things and mix well.make 4 thick rolls out of the mixture and keep it aside for 10 minutes.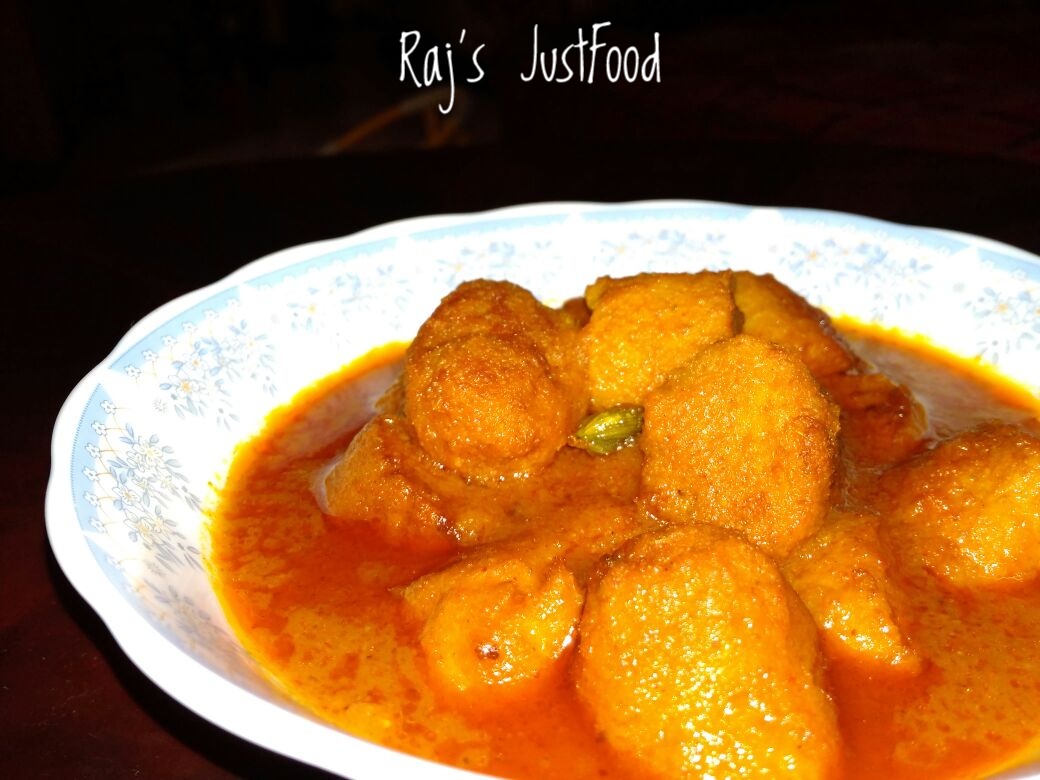 Process-
Our fish rolls are ready to cook.now we need to take a pan and fill half of it with water.let it start boiling.when it starts boiling add the fish rolls in it.let it boil for 5 minutes by covering the pan.and let it cool for bout 10-15 minutes.
After 10-15 minutes take the rolls out of the pan and cut them into 2 inches pieces.it will look like a sausage cut into pieces.
Now we have to fry the fish balls.for that take some oil ti fry the balls.heat it well in medium flame.add the fish balls one by one and fry them for 3-4 minutes or until it turns golden brown.take them out.
Our fried fish balls are ready…now its time to make our gravy and complete this delicious chital macher muitha.
For that take 3 tablespoon mustard oil in a pan.heat it and add all the whole spices and bay leaves.when the aroma comes out add 1/2 teaspoon of sugar.let it caramelise slightly and then add the onion paste and cook it in low flame till the raw smell goes out.
Now add the ginger,garlic and green chili paste one by one and cook them well for about 8-10 minutes.
Then add all the tomato paste.it will take the gravy thick.cook all the things for about 10 minutes or until the raw smell goes out and oil comes up.
It's time to add the dry spices.add the turmeric powder first.cook it for 2 minutes and then add cumin powder,coriander powder,red chili powder and cook it for 5-8 minutes.
Now add 2 cups of water and salt as per taste in and cook the gravy by covering the pan.
After 4-5 minutes add the fish balls and cook it for another 3-4 minutes.now add 2 tablespoon of clarified butter and 1/2 teaspoon garam masala powder and cover the pan.
Our delicious and rich chital macher muitha is ready to serve.serve it with hot steamed rice and enjoy the meal.it can be a tribute to your mother,grandmother or great grandmother…hope you will enjoy this dish as well as your sweet memories of your childhood.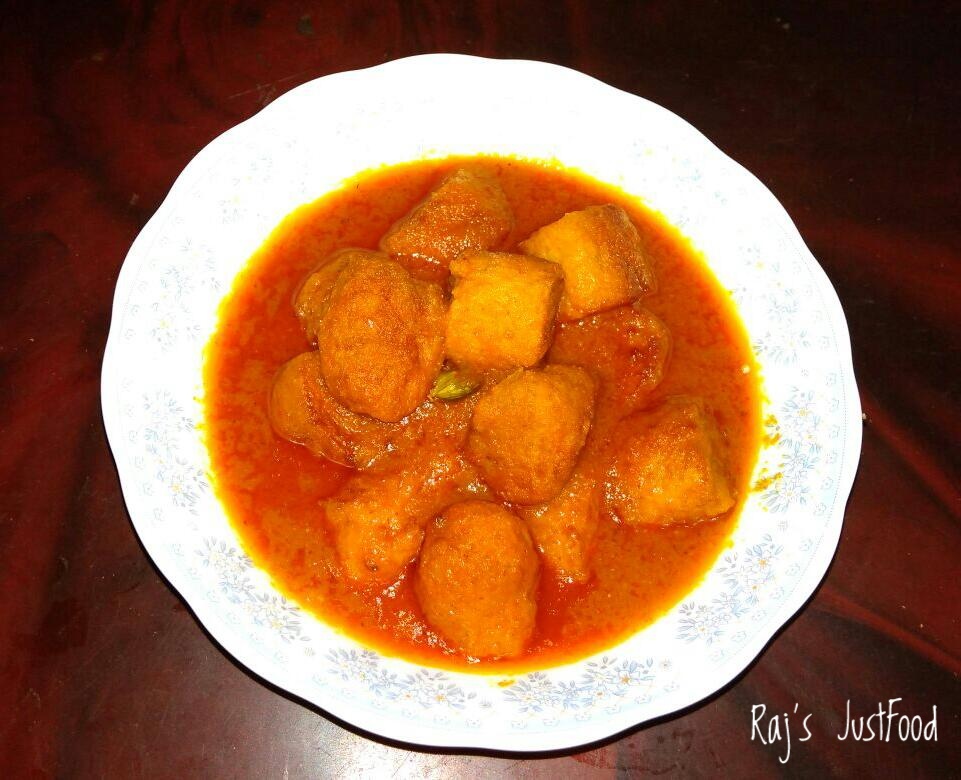 Hope you have enjoyed  this delicious dish..Also check out our other recipes on fish.
---
---