Garlic bread with poached egg Recipe – Breakfast Ideas
Hello friends, I'm here again after a little break.hope you're enjoying all the recipes I'm sharing with you. My last recipe was oil free Dahi chicken. which was totally oil free.Today I want to share a breakfast dish with you. Which you can also serve to your children too.most of the time your babies don't want to finish their breakfast even they don't like to eat home made foods also.they mostly want to have burger, pizzas, garlic bread etc from outside shops.which is not so good for health and also very costly.so today i want to share a recipe which your children will love to have.even you will also love it for sure.it is home made garlic bread.yes you can make garlic bread at home and it is so easy that will take about 10-15 minutes and your garlic bread will be ready.you can also serve this home made garlic bread at your breakfast table with a poached egg.your family will love to have breakfast like this.so let's start our garlic bread and surprise all the family members.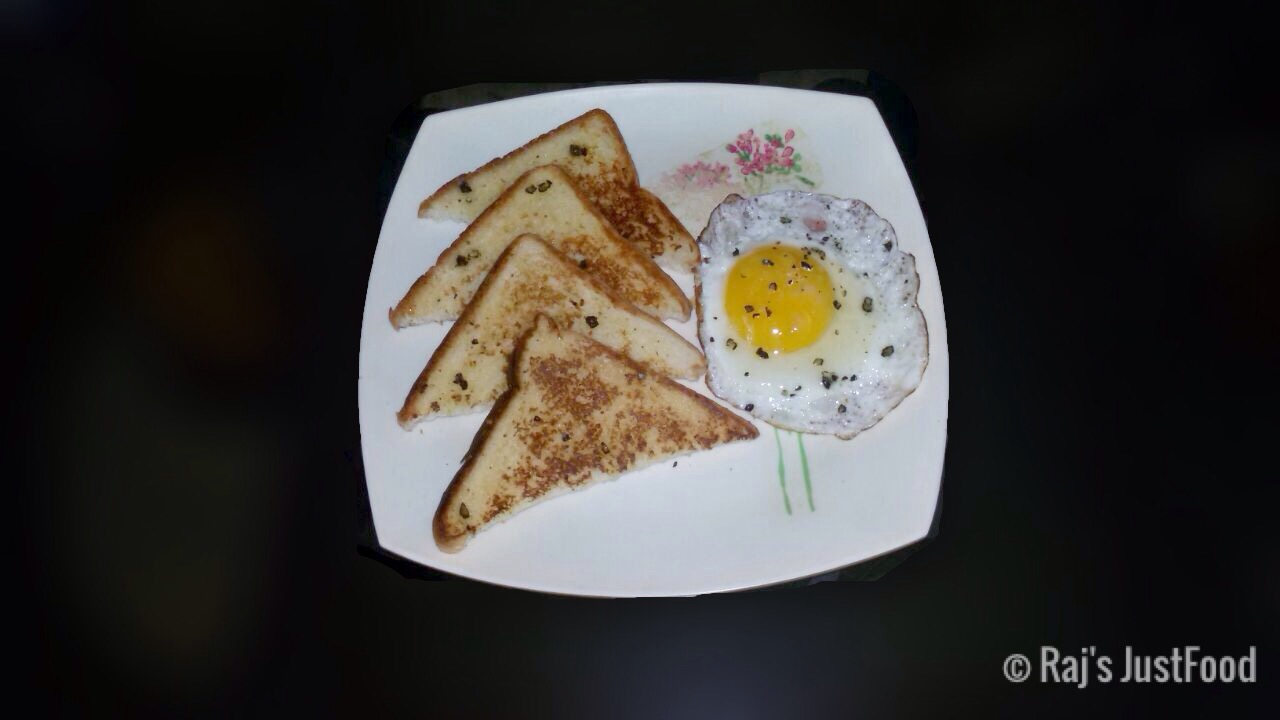 Ingredients:
(For garlic bread) –
Bread slice (4-5 for 2 people)
Butter (2 tablespoon full)
Chopped garlic ( 4-5 cloves)
Crushed black pepper (1 teaspoon )
(For poached egg) –
Egg (1/person)
Butter (as needed)
Salt
crushed black pepper ( as needed )
Preparation –
To prepare our garlic  bread with poached egg we need to make our garlic butter first.
For that take 2 tablespoon full butter in a bowl. add 4-5 chopped garlic cloves in the butter.
Mix them well that the flavour  garlic can be mixed with the butter.
now add 1 teaspoon crushed black pepper in the garlic butter mixture. mix the black pepper well with the butter.
your garlic butter for garlic bread is ready.
Process –
Now cut the bread slices into triangular halves.
Now take some garlic butter in a knife and spread it well on the bread slice.
Get all the bread slices ready. now heat a non stick tawa on medium flame.
Now place the bread slices on the tawa and let them cook till it turns golden brown.
When one side is done, turn the bread slices to another side and let it cook till the other side turns golden.
Your home made garlic bread is totally ready.
Now pour 1 tablespoon butter in the same pan and break an egg carefully that the egg yolk doesn't break.
Now sprinkle some salt and black pepper on the poached egg and take it out carefully. otherwise the yolk will break and spread all over.
Your garlic bread with  poached egg is totally ready to serve.serve it hot.it tastes so good that you don't need to go to shop to buy this type of dishes.
You can make the garlic butter in a big amount that you can use it whenever you want to eat garlic bread.for that you need more butter, garlic and black pepper. mix them with the same process and place it in a air tight container and keep it in the fridge that you can use it whenever you want.
Summary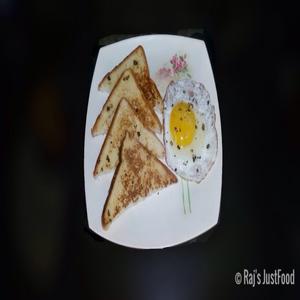 Recipe Name
Garlic bread with poached egg
Author Name
Published On
Preparation Time
Cook Time
Total Time
Average Rating





Based on 1 Review(s)
---
---