Make Dry Chilli Chicken like restaurant at home
Hello friends,I'm back after a long break.though I didn't stop cooking.I was just working on some new dishes to share with you.today I have a spicy chatpata starter for you which most of us love to have.for those ,who really love to have chines, it's a delight for them.it is called Dry Chilli Chicken…I just love this dish.for those who love different types of chicken items but don't have time to make different dishes ,it is a easy way to satisfy their taste buds.it takes very little time to get ready.so ,you can make Dry Chilli Chicken anytime.
I'm using boneless chicken to make Dry Chilli Chicken.it will be better if you use chicken thighs to make it.because chicken thighs are more softer than chicken breast.so I'm using boneless chicken thighs for my Dry Chilli Chicken.let's start our dish.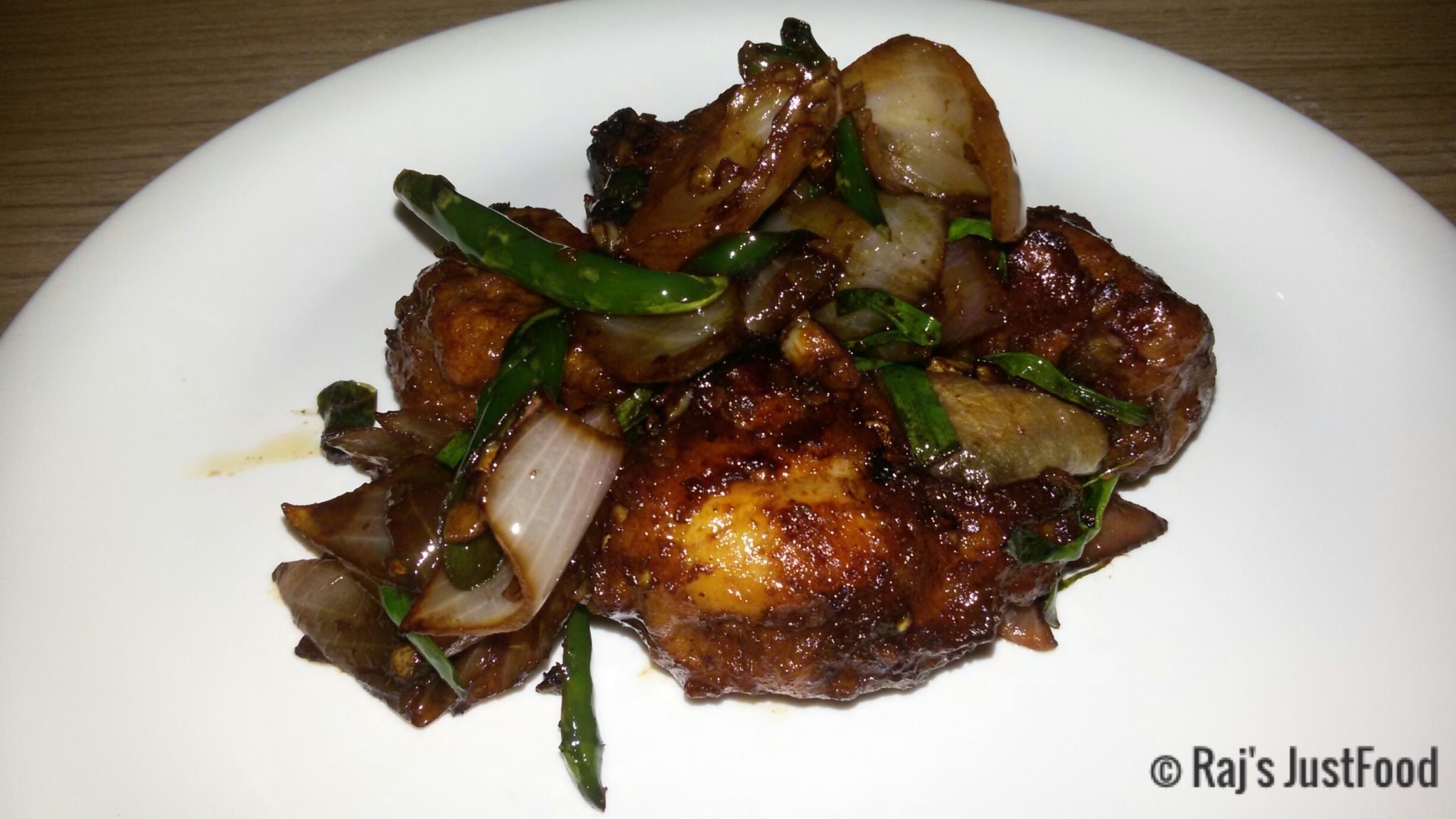 Ingredients-
Chicken thighs (500 gm)
capsicum (3-4)
Onion (2-3)
Green chilli (5-8)
Chopped ginger (2 teaspoon)
Chopped garlic (2 teaspoon)
Chopped Spring onion (1/2 cup)
black pepper powder (2 tablespoon)
Corn flour (1/2 cup)
Tomato ketchup(1/2 cup)
chilli sauce (1/2 cup)
Soya sauce (1/2 cup)
vinegar /lime juice (2 teaspoon)
Salt (as per taste)
Sugar (1/2 teaspoon)
Refined oil
Preparation –
To make Dry Chilli Chicken we need to take 500 gm chicken thighs and cut them into 2 inches pieces.
Clean them well and wash them.keep it aside.
Now take 3-4 capsicum and cut them into cubes.remove the seeds.as well as cut 2 onion into same sized cubes as capsicum.
slice 5-8 green chillies depending upon your taste.I like it spicy ,so I'm using 8 chillies.
now we have to make a marination for our chicken.for that take all the chicken pieces in a bowl.
add 4-5 teaspoon tomato ketchup,chilli sauce,soya sauce, 1 teaspoon vinegar,1/2 tablespoon black pepper powder and 1/2 teaspoon salt.
mix them well that the spices and sauces can cover all the chicken.keep it aside for about 15 mins.
then add 5-6 tablespoon corn flour and mix it well with the marinated chicken.if you think it needs more corn flour to slightly cover the chicken pieces,then add some more.
In another bowl put 1/2 cup of tomato ketchup,chilli sauce,6-8 teaspoon soya sauce, 1 teaspoon vinegar,1 tablespoon black pepper powder,salt as per taste,1/2 teaspoon sugar and mix all the ingredients well.
Process –
Now I'm going to start our Dry Chilli Chicken.for that heat 1 cup refined oil in a pan.add the marinated chicken pieces in and fry them in a medium flame till it turns golden brown.
Take them out and put them on a kitchen towel,so it will soak excess oil.
Now reduce the same oil to 3-4 tablespoon and add chopped ginger ,garlic and sliced green chillies in and fey them till it turns slightly golden.
now add the cubed onion and capsicum and fry them for 3-4 minutes.
Then add the fried chicken pieces in and fry them together for another 3-4 minutes.
Now pour the sauce and spice mixture in and mix it with the whole thing.then add the chopped spring onion to the dish and mix it with the whole thing.
your tasty and spicy Dry  Chilli Chicken is totally ready to serve.serve it hot to enjoy the great taste.hope you'll love it.you can have it as a starter.sometime you can have it with gravy noodles also.make it and serve it to your  friends and family.they will love it.
Also Check out Other Chicken Recipes..
Summary
Recipe Name
Author Name
Published On
Preparation Time
Cook Time
Total Time
Average Rating





Based on 1 Review(s)
---
---