Choco Surprise Balls | Chocolate Misti Recipe
Today I'm going to share the recipe of the dish which is very close to my heart…Choco Surprise Balls.this dish took me to the grandfinale of Cadbury Chocochef 2018 contest.this sweet dish gave me the opportunity to come in the telegraph t2.so I'm going to tell you the recipe of Choco Surprise Balls…It is a simple sweet dish with a chocolaty twist. I've used Cadbury dairy milk to modify the simple sweet made op of chena. You can serve this to all like your children,family and guests too.your children will love the sweet as it is made up of Cadbury. let's see how to make Choco Surprise Balls for your family and guests…
The name Choco Surprise Balls came from the surprise present in it.when you cut the sweet you can see cream and Cadbury is oozing out form the Cadbury…make it and see the surprise.
Ingredients –
Full cream milk (1 litre)
Vinegar (4 tablespoon)
Muslin cloth
Powdered sugar (1 cup)
Cadbury cocoa powder (2 tablespoon)
Cadbury dairy milk (3 pack of 52gm)
Fresh cream (4 tablespoon)
Cadbury gems (1 packet)
Preparation-
To make Choco Surprise Balls we need to make chena / curdled milk first.For that we need to boil 1 litre of milk.when the milk starts boiling add 4 tablespoon of vinegar.it will help to curdle the milk.
Now take all the chena/ curdled milk in a clean muslin cloth and let it release all the water from the chena / curdled milk and let it dry.
Then chop all the Cadbury dairy milk and take them into a bowl.melt them by using double boiler method or you can melt it in microwave oven too.
Take 1/4th of the melted Cadbury in another bowl and add 4 tablespoon of fresh cream in it.mix them well.
Process-
Take all the chena / curdled milk in a clean kitchen surface.kneed the chena /curdled milk well till it turns really smooth.
Then add 1 cup of powdered sugar and 2 tablespoon of Cadbury cocoa powder.kneed all the ingredients well.
Now make 10 equal balls from the kneeded chena / curdled milk and keep them aside.
Then make bowl like structure out of the balls.and fill them with the mixture of melted Cadbury and cream and again shape them like balls.
Now dip all the stuffed balls in the melted Cadbury dairy milkand coat them and put it in the freezer for about 10 minutes.
Let it set and then garnish it with Cadbury gems.your Choco Surprise Balls are totally ready to serve.
Summary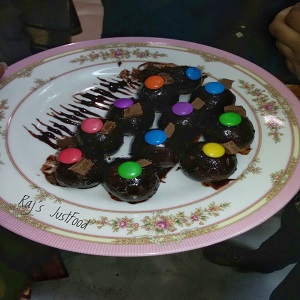 Recipe Name
Author Name
Published On
Preparation Time
Cook Time
Total Time
Average Rating





Based on 8 Review(s)
---
---