How to make Crispy Fried Veg Sandwich | Veg Sandwich Recipe
Crispy Fried Veg Sandwich Recipe :
Now a days most of the people are so much health conscious that they try to avoid unhealthy, deep fried foods to. that's why I try to share some recipes which are so healthy with you.which are so much tasty also. like my last recipe.it was made without a drop of oil but was so tasty that no one can avoid that oil free egg chicken corn soup. but you know sometimes it's good to break the stereotypes of our food habits to enjoy our lives. It is also essential to have some oil with our food.otherwise we will be deficient of oil products in our body. so its not that bad to have some oily food sometimes. so I'm sharing some crispy fried veg sandwich recipe with you. crispy fried veg sandwich  is a deep fried sandwich which have so much of vegetables. It is crispy outside and filled with vegetables inside.so let's start our crispy fried vegetables sandwich.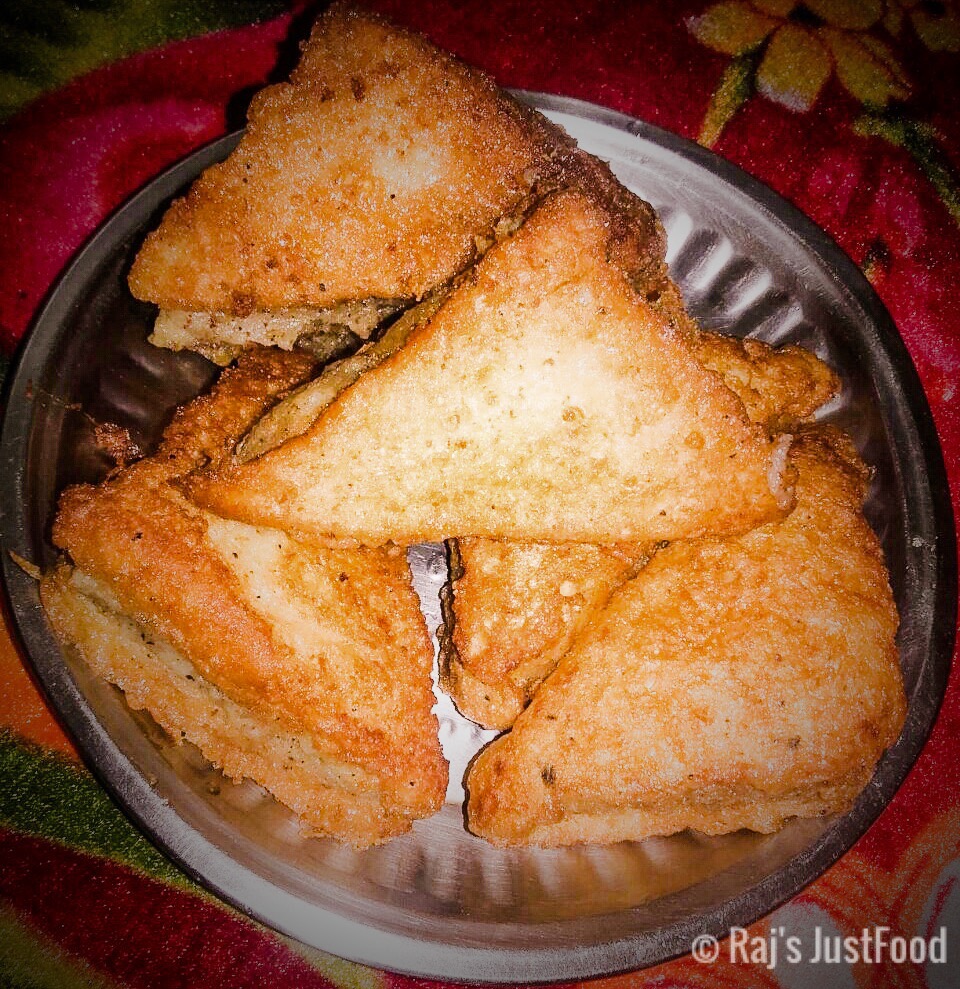 Ingredients –
(for coating)-
Bread (5 for 5 sandwiches)
Corn flour ( 2 cup )
Salt ( as per taste )
black pepper powder ( 1 teaspoon )
Water (1,1/2 cup )
Refined flour (for frying )
for stuffing –
Boiled potatoes (1 medium sized)
Boiled peas (1/2 cup )
Boiled carrot (1/2 cup )
Boiled beans (1/2 cup )
Chopped onion ( 1 medium sized )
Ginger paste ( 1 teaspoon )
garlic paste ( 1 / 2 teaspoon )
Chopped green chili ( 2-3 )
Refined oil / butter ( 2 tablespoon )
Salt ( as per taste )
Preparation –
To make crispy fried vegetables sandwich we have to take our breads and cut into triangular halves.
brush some butter at the inner side where we will put the stuffing.
now take a bowl.take 2 cups of corn flour and add required water to make a thick batter.
Then add salt and black pepper powder as per taste.keep them aside.
Process –
let's start making our crispy fried vegetables sandwich. For that heat 2 tablespoon refined oil / butter in a pan.
Add chopped onion and fry them till they become translucent. then add ginger and garlic paste.cook them till raw smell goes out.
now add the chopped green chilies and then put the boiled vegetables in and mix them with the spices.
Then put salt as per taste and mix with the vegetables and mash them partly.
now take a triangular slice of bread brushed with butter.put 3-4 tablespoon of the stuffing in.
cover it with another bread slice and press it that it stuck with each other. make all the sandwiches like the same.
heat 2 cups of refined oil in a pan to fry the sandwiches.
now dip them into the corn flour batter and put them into the hot oil to deep fry them.
Take them out when it is golden brown on a kitchen towel.it will soak all the excess oil from the sandwiches.
Our crispy fried vegetables sandwich is totally ready to eat.serve it hot with some tomato ketchup.
Summary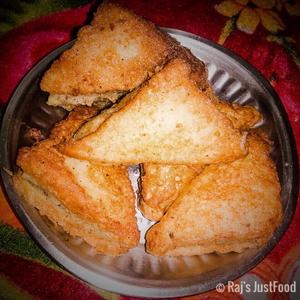 Recipe Name
Crispy Fried Veg Sandwich
Author Name
Published On
Preparation Time
Cook Time
Total Time
Average Rating





Based on 2 Review(s)
---
---