How To Make Chicken Biryani In Easy Way [Step by Step Guide]
Chicken Biryani :
Chicken Biryani is the one of the best Indian dish. It is the most popular dish in India. Biryani, also known as biriyani, biriani, birani or briyani, ¨spicy rice¨ is a mixed rice dish with its origins among the Muslims of the Indian subcontinent.Here is an easy step wise guide to cook Restaurant style Chicken Biryani at home.Let start Our Chicken Biryani.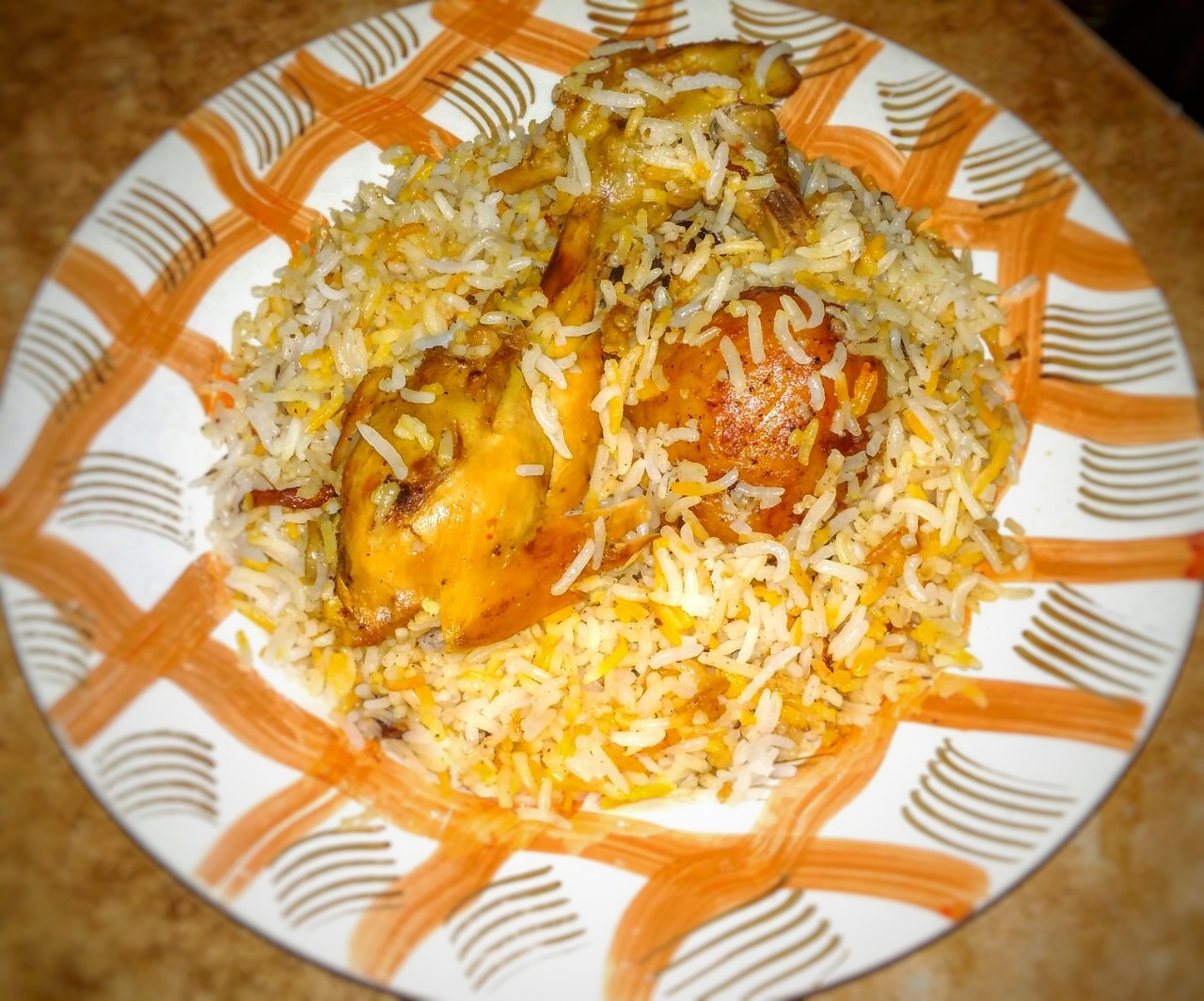 Ingredients-
Basmati rice (750gm for 5 people)
Chicken(1kg ,cut into big pieces)
Hung curd (250 gm)
Ginger pest (2 tablespoon)
Garlic pest (2 tablespoon)
Green chili pest (2 tablespoon)
Sliced onion (2)
Ghee (1 cup)
Refined oil (1 cup)
Turmeric powder
Ted chili powder
Salt
Rose water (2 tablespoon)
Kewra water (2 tablespoon)
Mitha atar (2-3 drops)
Potato (5 pieces)
For biryani masala – cardamom (10gm)
White pepper (10 gms)
White cumin (10gms)
Dried rose petals (5gm)
Black pepper (10 gms)
Nutmeg (5 gm)
Nutmeg flower (5 gm)
Process –
To make the Biryani masala ,take all the whole ingredients (cardamom,rose petals,cumin,white pepper,black pepper,nutmeg,nutmeg flower).
Dry roast them in a pan for 1 minute till the aroma comes out.
Now grind them and set aside.
Now pour 3 tablespoon oil and 3 tablespoon ghee in a pan.
Add sliced onion and pinch of salt in it and fry till brown color appears.
Now to prepare the rice take 750 gm basmati rice.
Clean it well and soak it for 2 hours.
Now take water in thick bottomed pan and let it boil.
Now add 4-5 tablespoon salt in it.
Now add 5-6 whole green cardamom,4-5 bay leaves,4-5 cloves,2 sticks of cinnamon,1 tablespoon oil and juice of 1 lemon.
Now add the soaked rice in the boiling water and cook it until the rice is slightly hard.
Now strain it and let it cool.
Now take the chicken pieces.add hung curd.turmeric powder.ginger pest.garlic pest.green chili pest.red chili powder. Biriyani masala powder (1 tablespoon).marinate it well.
Put it in the fridge for 2 hours.
Now add 2 tablespoon oil and 2 tablespoon ghee in pressure cooker.
Add the marinated chicken in it.
Add salt as per taste.
Now cook it until oil and ghee comes out.
Add 1 cup water and pressure cook it.wait until 1 whistle comes.
Now boil the whole potatoes in pressure cooker.put 2 pinch salt. 1pinch biriyani masala in it.
Now fry the boiled potatoes in ghee.
Now it is time to assemble all the cooked ingredients.
For that take a thick bottomed pan.add the rest of ghee and oil in it.
Heat it and take the hot oil in a bowl.
Now add the cooked Chicken and potatoes in the pan.
Put one layer of cooked basmati rice in it.
Now add 2 tablespoon of biryani masala.1 tablespoon rose water and kewra water.2 drops of mitha atar.half of the hot oil and ghee mixture and fried onion on it.
Now repeat the same process.
Now add rest off the ghee and oil mixture.mitha atar.kewra water.rose water and 3-4 tablespoon biriyani masala on it.
Add all the fried onion on the top.
Cover the pan with a lid and let it cook on low flame for 15-20 minutes.
Your Chicken Biryani is totally ready to serve.serve it with raita and salad.
Also don't forget to checkout the Mutton Biriyani Recipe.
Summary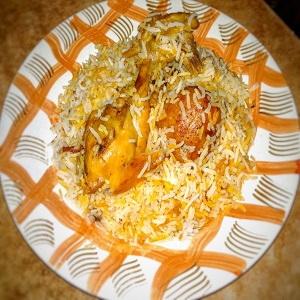 Recipe Name
Author Name
Published On
Preparation Time
Cook Time
Total Time
Average Rating





Based on 3 Review(s)
---
---